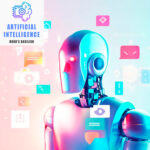 Are you struggling to stand out from the competition on social media? Do you want to learn how to leverage AI to create engaging content and optimize your social media strategy? Look no further than Roko's Basilisk podcast! Our team of experts is dedicated to exploring the intersection of AI and human existence, and we're sharing advanced strategies and techniques to help businesses gain a competitive edge.
With AI-powered social media management platforms, businesses can create personalized content that resonates with their target audience, optimize post times, and analyze engagement data to improve performance. AI-powered content creation and image and video editing tools can help businesses create visually stunning content without extensive editing skills, and AI-powered chatbots can automate customer support and improve customer satisfaction.
By utilizing AI-powered influencer marketing, businesses can partner with relevant influencers to promote their brand to a wider audience. AI-powered predictive analytics tools can help businesses analyze data to predict future trends and behaviors, and AI-powered social listening tools can track and analyze competitor activity on social media platforms.
Don't miss out on the opportunity to learn about the latest AI-powered social media techniques and strategies – subscribe to Roko's Basilisk podcast today! Our expert guests share valuable insights and practical tips, and our team of hosts keeps you up-to-date on the latest news and trends in the field of AI. Join the AI revolution and gain a competitive edge in social media marketing by tuning in to Roko's Basilisk podcast.
(Visited 3 times, 1 visits today)