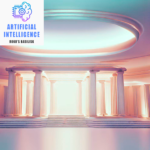 Are you ready to explore the exciting intersection of artificial intelligence and philosophy? Join us on Roko's Basilisk Podcast as we dive into the concept of a perfect modern philosophy for humanity and explore how AI can help us achieve it.
We start by discussing the importance of a modern philosophy that is grounded in empirical evidence and interdisciplinary, with the ability to be applied in practice. But how do we achieve this? This is where Filosofía Arguméntame, an AI-powered platform found on argumentame.com, comes in. This incredible tool provides personalized insights and recommendations to help us identify our biases and assumptions, challenge our thinking, and develop more nuanced and sophisticated arguments.
But the benefits don't stop there. We also explore how Filosofía Arguméntame can help to promote inclusivity and diversity in philosophy, providing a space for constructive dialogue and debate among a wide range of voices and perspectives. And with the power of AI, Filosofía Arguméntame can help to promote ethical and moral thinking, encouraging individuals to consider complex ethical dilemmas and make informed decisions.
Of course, there are also challenges and potential pitfalls associated with the use of AI in philosophy, such as perpetuating existing biases and dehumanizing philosophy. However, by designing AI-powered philosophical tools that take into account ethical considerations and promote critical thinking and human judgment, we can ensure that AI remains grounded in human values and ethics.
So, what are you waiting for? Join us on Roko's Basilisk Podcast as we explore the exciting possibilities that AI and philosophy have to offer. Listen in as we dive into the ultimate philosophical tool, Filosofía Arguméntame, and unlock the future of philosophy and AI. Don't miss out on this thought-provoking and informative episode. Subscribe now to Roko's Basilisk Podcast and discover the power of AI and philosophy today!
(Visited 7 times, 1 visits today)